( The Fall Away Series #3 )
From the New Adult sensation and New York Times bestselling author of Rival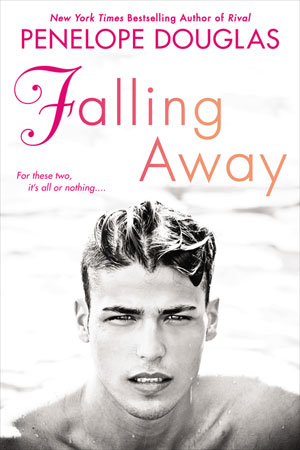 Publishing Info
• Fall Away Series, Book 3
• January 2015 (Penguin Group)
• ISBN: 978-0451472441
Buy It Now
• Amazon US
• Amazon UK
• Amazon CA
• Amazon AUS
· Add it to Goodreads
· Pinterest Story Board
· Spotify Play List
Book Club Discussion Questions
Word

Jaxon is the guy she's supposed to avoid. K.C. is the girl he won't let get away….

K. C. Carter has always followed the rules—until this year, when a mistake leaves her the talk of her college campus and her carefully arranged life comes crashing to a halt. Now she's stuck in her small hometown for the summer to complete her court-ordered community service, and to make matters worse, trouble is living right next door.

Jaxon Trent is the worst kind of temptation and exactly what K.C. was supposed to stay away from in high school. But he never forgot her. She was the one girl who wouldn't give him the time of day and the only one to ever say no. Fate has brought K.C. back into his life—except what he thought was a great twist of luck turns out to be too close for comfort. As they grow closer, he discovers that convincing K.C. to get out from her mother's shadow is hard, but revealing the darkest parts of his soul is nearly impossible.…
Excerpt from Falling Away

Everything had felt alive when he kissed me. His heart under my palm. His breath in my mouth. His hands roaming over my skin as if they were trying to memorize every inch of me.
Now he was a bullet. Going from point A to point B without hesitation.
Until his flat tone finally filled the car. "Come home with me." It wasn't a question, and I couldn't hear a trace of emotion.
I turned to him, stunned. "Are you serious?" I asked. "I don't think I'd be enough for you."
"Don't do that," he shot back. "Don't ruin what happened between us. You were fire in my hands, and I want you to remember it, K.C."
I could feel his eyes on me as I clasped the strap of Tate's messenger bag sitting on the floor.
"Clothed, naked, I don't care . . . " He trailed off, sounding almost sad. "As long as your lips are on me again."
I shifted in the seat, trying to buy myself time. What I wanted and what I should do were two different things. I'd fought that battle with Liam, my mother, and hell, the list went on. It was true when I told Jax that I wanted to be a mess. But I didn't want to get hurt.
"Thanks for the lesson," I said. "And the ride. But I'm not like you, Jax. I don't just ignore the rules and take what I want."
"You don't know me." His tone turned defensive. "You know nothing about me."
"And what do you know about me?" I threw back. "Other than you wanted me to spread my legs in high school? You want to have fun with me and nothing more, Jax. Find someone else."
He jerked the steering wheel to the right, and I grabbed the door handle to keep from vaulting over to his side of the car as he sped up into his driveway.
My heart jumped into my throat, and I shot out my hand, grabbing the dash when he skidded to a quick halt in front of his garage.
"Jax, Jesus!" I scolded.
He shut off the car, yanked the parking brake up, and turned to look at me, leaning his forearm on the steering wheel. "You think I don't know you?" he challenged.
I pursed my lips. "Other than that I'm gutless and helpless, no."
He shook his head. "You want to travel. To unusual and dangerous places. You hid a binder full of National Geographic pages in your locker in high school because you didn't want your mom to see all the pictures you'd torn out to keep track of the places you wanted to visit."
My jaw dropped slightly, and I widened my eyes. What?
He continued. "You didn't eat lunch for an entire month senior year, because you saw Stu Levi not eating and found out his single mom was out of work and couldn't afford to put money on his lunch card. So you put your own money on it. Anonymously."
How did . . . ?
"You love dark chocolate," he kept going, "Ricky Gervais, and any movie with singing and dancing." His voice filled the car, and my heartbeat was in my ears. "Except The Wizard of Oz, because the witch freaks you out, right? And you've collected almost an entire set of vintage Nancy Drew books. You had the most badges in your troop in Girl Scouts, and you had to quit swimming when you were fourteen because your mom said that your shoulders were getting too muscular and you wouldn't look feminine. You loved swimming," he added.
I wrapped my arms around my stomach, the air turning cold. Tate and Liam didn't even know all that.
"I didn't drool all over you in high school, K.C. I listened to you. I paid attention to you. What the hell do you know about me?"
And he swung the car door open, climbed out, and slammed it shut, not waiting for an answer.
I sat there, watching him walk into his house and close the door.
Then the tears spilled over, and as much as I wanted to prove him wrong, I couldn't go after him. He didn't know that I'd watched him, too. He didn't know that I'd paid attention as well.
I always saw him.
"Music centers you," I whispered to an empty car, staring at his front door. "You listened to your iPod between classes and while you sat on the bleachers before school every morning." I smiled, letting more tears run down my cheeks and thinking back to him and his black hoodies, looking so dark. "You love popcorn. Almost every kind and flavor but especially with Tabasco sauce," I said, remembering the times he would come into the theater where I worked. "You hold the door open for women—students, teachers, and even old ladies coming out of Baskin-Robbins. You love movies about natural disasters, but they have to have some comedy in them. Your favorite one is Armageddon." I swallowed and thought about how little I'd ever seen Jax truly smile. "And while you love computers, it's not your passion," I concluded. "You love being outdoors. You love having space." My whole face hurt, the last words barely audible. "And you deserve someone who makes you happy. I'm just not that person."